BLOOMINGDALE, IL -- After more than two decades of pressing and educating politicians and numerous government agencies about the benefits of a partnership between government and independent operators, the Illinois Video Gaming Act became law in 2009. Still, the video gaming terminals it authorized did not go live for another three years.
In October 2012, the Illinois Gaming Board finally flipped the video lottery switch to the on position, marking a successful end to a decades-long campaign -- but the beginning of a new, yet unknown frontier for operators in the largest Midwest amusement machine market.
John Neville of Blackhawk Music Co. (Sterling) is among a great generation of Illinois operators who helped make VLTs a reality, which could give hope to a future generation of operators. It's no surprise that Neville, one of the architects of a new industry, is the Illinois Coin Machine Operators Association's selection for its Man of the Year. Frank Gumma Sr. of Amercian Vending Sales presented the award to Neville on June 18 at a special ICMOA dinner, which took place during the association's annual convention in Bloomingdale, IL.
Neville once said, "Video gaming is like the Gold Rush of 1848. Operators from all over the country are descending on Illinois, and trying to cash in on video gaming legislation." The coin machine entrepreneur was Play Meter Magazine's Operator of the Year in 2010, a recognition coinciding with passage of the Illinois VLT law.
The entire amusement industry, around the world, closely watched the events unfolding in Illinois. Forms of authorized operator-run video lottery have been around for many years, most notably in Louisiana, Montana, South Dakota and West Virginia. However, Illinois represents a potential market size that could become larger than all those states combined.
On July 13, 2009, Illinois Gov. Pat Quinn signed HB 255, a hybrid bill that includes the Video Gaming Act, which created a new video poker market under the auspices of the Illinois Lottery. Quinn's signature followed lopsided votes in favor of the VGA by both the Illinois House and Senate. The bill's passage represented a historic victory for the ICMOA, which had begun its campaign for a legalized market for VLTs in 1985, when Neville and a fellow operator, the late Ray Shroyer of Metro Amusements (Streater), got the ball rolling.
The 2009 law is based on the same bill that Shroyer and Neville, who became close friends, had envisioned almost 30 years ago. For Neville, its passage was bittersweet; Shroyer died in March 2008. When Neville heard the news of the governor's signing, he was sitting in a chair left to him by Ray. The chair is rumored to have belonged to Illinois Rep. Zeke Giorgi (Rockford) and bears the seal of the State of Illinois. The chair, acquired by Ray at an auction, now resides in Neville's office at home. It was Giorgi who helped form the idea for the video lottery program.
"Ray spoke up for the industry, and he believed in it," said Neville, who regrets his friend did not see their VLT measure finally succeed.
Behind the Illinois operators was a dedicated team of government affairs experts and ICMOA administrators. Lobbyists and legislative consultants Zach Stamp, Tom Cullen, Joe Berrios and Sam Panayotovich were key members of the strategy team. ICMOA executive director Adonna Jerman was the linchpin. The ongoing video-gaming campaign was operator funded.
Just how successful the actual program will be is not yet known. Nine months of data, ended May 31, show caution and promise. According to the Illinois Gaming Board, which regulates VLTs, players wagered about $1.3 billion and won $1.2 billion. Net terminal income was approximately $98 million. State and municipal shares were $24.5 million and $4.9 million, respectively.
A video-gaming program that is legal, regulated and taxed is what Neville had imagined. He got it. Gaming revenues after payouts are taxed at 30% under state law, with five-sixths of the proceeds going to a state capital-project fund and one-sixth to local governments. The law also requires at least 80% of wagers be paid out.
About 6,960 terminals were in operation statewide at the end of May. For the most part, operators are installing the maximum five machines in their VLT locations. There are more than 20,000 licensed liquor-pouring establishments in the state that can be approved for VLT operations. This budding market, designed by operators for operators, under the control of what is considered to be one of the most stringent state gaming boards in the nation, is a perfect combination for future success.
Mission accomplished.
John Neville is first and foremost a man of jukeboxes and amusement machines. "What a jukebox you see. Bow your head and bend your neck. That's where daddy gets his check..." is a rhyme composed by his daughters when they were young girls.
Neville, a Chicago native, began his coin-op career in 1962 at Seeburg Sales Corp. He was hired by the jukebox manufacturer's sales manager, Ed Claffey. Both men had the Marine Corps in common; Neville served between 1956 and 1961.
At Seeburg, Neville drove a mobile demo studio showcasing the first jukebox that played 33-1/3 albums, as well as 45-rpm boxes. He toured a large area of the U.S. that included New England, upstate New York, Tennessee and Louisiana, assisting operators in signing up locations. The interior of the early '60s jukebox mobile featured wood paneling and a cigarette machine to create a microenvironment for the jukeboxes.
Neville spent only a year at Seeburg, but he would spend another 50 years selling jukeboxes for various distributors and operating his own. After Seeburg, he worked for Sammons-Pennington Distributing (Memphis, TN). He was based at the Nashville office, where he sold the Seeburg Discotheque System (perhaps not the best fit for the home of the Country Music Hall of Fame), among other music equipment.
Next, Neville returned to Chicago to sell amusement machines and Seeburg boxes for World Wide Distributors between 1964 and 1979. He later joined Empire Distributing, run by industry legend Joe Robbins; almost immediately after it became Bally Empire Distributing, and Neville was its vice-president of marketing until 1981.
The year 1981 brought a big change. Neville and his wife, Jacqueline, purchased Blackhawk Music Co. from George Wooldridge, a customer and friend. The Nevilles moved from Chicago to Sterling. Wooldridge ran a well-oiled machine, so the operation was almost turnkey for the Nevilles. This allowed John to simultaneously work for American Vending Sales (Elk Grove Village), from 1985 to 1992, to help the distributorship get its newly acquired Rowe jukebox line up and running. Jacqueline kept things running at Blackhawk. (John and Jacqueline are married 47 years and have three daughters, one son and one grandson.)
The Nevilles entered the operating sector at the peak of the short-lived videogame boom. The arcade videogame segment crashed in 1983, leaving many operations in dire trouble. But Blackhawk was ready for the challenge, and it thrived during several difficult economic periods. It created successful electronic dart and pool leagues with Midwest knowhow. These leagues, alongside best operating practices for countertop videos, digital jukeboxes and Golden Tee Golf, among other coin-op stalwarts, kept Blackhawk at the top of its game through the first decade of the new millennium.
For Neville, video lottery is simply the next step for operators. His operator-run program, however, has come at a time when he's ready to retire. Blackhawk Music Co. was recently sold to Gold Rush Amusements (Glendale Heights), a full-service video-gaming operation founded by Rick and Alisa Heidner. Neville remains on the Blackhawk team, mostly in a customer relations capacity.
Music and games operators always have been aware that they really are in the entertainment business, and have adapted to the changing requirements of that vocation. And John Neville is keenly aware that this process is ongoing, and there is every reason to believe that it will continue to keep the industry relevant to current and future consumer tastes.
---

John Neville: A Man Of Coin-Op And Community
ICMOA's Man of the Year has been recognized many times over, not only for his industry accomplishments, but also for his community spirit. In addition to being honored as Play Meter's 2010 Operator of the Year, John Neville and Blackhawk Music Co. have received accolades from several leading game factories, including Merit Entertainment's 2006 Operator of the Year. Blackhawk also was the National Dart Association's Charter Holder of the Year in 2006. John Neville has served as ICMOA president for two terms and is a graduate of the Amusement and Music Operators Association's Notre Dame Management Program, Class 11. Outside the industry, he's a member of his local Chamber of Commerce (and Service Award recipient), a supporter of Toys for Tots and has been voted Sauk Valley Marine of the Year four times.



---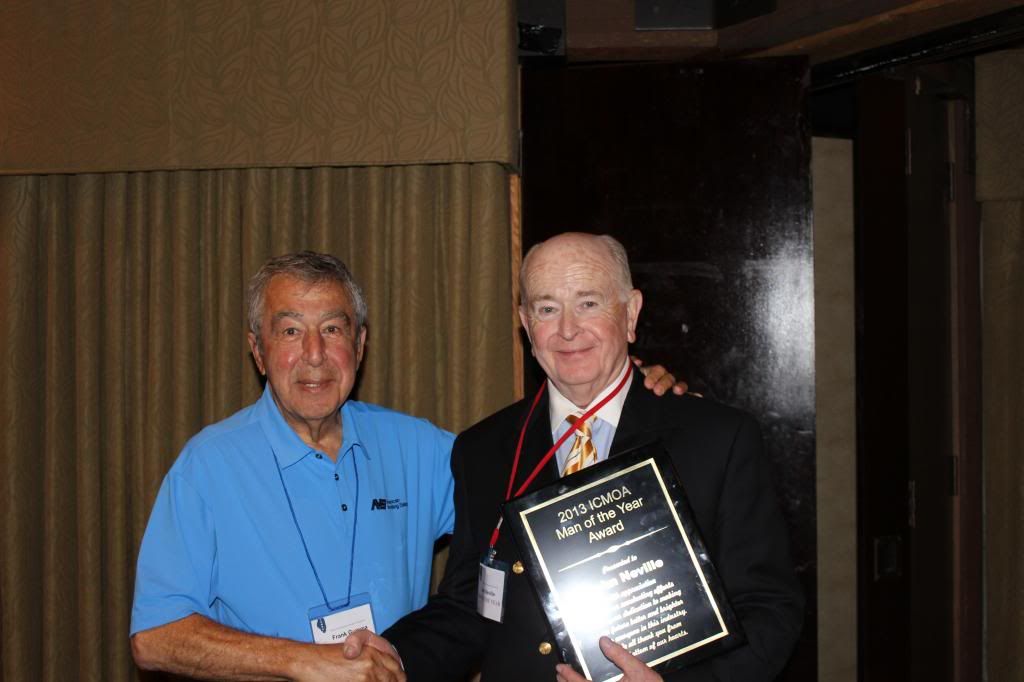 PHOTO: American Vending Sales' Frank Gumma (left) presents ICMOA Man of the Year Award to John Neville.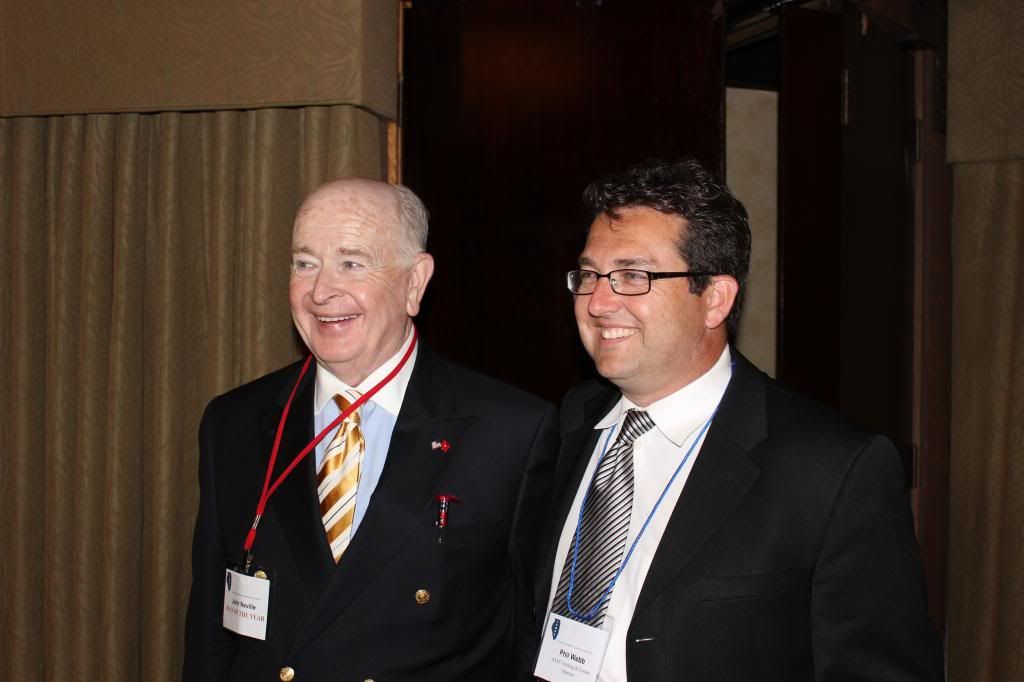 PHOTO: John Neville (left) is pictured with ICMOA president Phil Webb of ASAP Vending (Spring Grove) during the association's annual meeting in June.