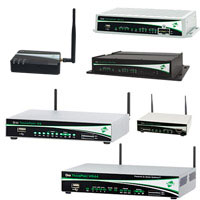 MINNETONKA, MN -- Digi International reports that the machine-to-machine routers in its TransPort line now support Gobi 4G LTE. According to the manufacturer, the TransPort M2M routers are the first that enable customers to connect to their choice of AT&T, Sprint or Verizon's 2G, 3G or 4G wireless networks by use of a single device.
Digi's TransPort line includes the WR21, WR41 and WR44 models. They are said to connect a wide range of geographically distributed devices, including vending machines, ATMs, kiosks and digital signs, easily and reliably. They also are suitable for use with industrial controllers.
The new capability was added to allow companies to scale their M2M deployments across North America without worrying about what carrier and network type is best for each location.
"As anyone with a cellphone knows, 3G and 4G LTE coverage can vary widely among carriers and locations," said Jeff Liebl, chief marketing officer at Digi International. "Now, one product gives you the choice of three networks, making it easier than ever to deploy, manage and scale cellular device networks throughout North America with confidence."
Digi TransPort M2M Routers are fully programmable and upgradeable remote communications solutions. They feature integrated VPN, enterprise security and routing protocol support. Options include integrated Wi-Fi access point with multiple service set identifications (SSID) as well as USB, serial and four-port Ethernet switch. There also are a variety of configuration options including multiple serial ports (synchronous or synchronous), GPS and I/O telemetry modules.
Additional information may be requested by calling (877) 912-3444 in the U.S. or (952) 912-3444 in other nations.